Ralph Hertelendy,

Founder/Vintner
After family immigrated from Hungary and settled down in the San Francisco Bay Area, Ralph Hertelendy fell in love with wine at a very early age. When Ralph was 5 years old in France, he tasted one of the best French Grand Crus, and remembered liking it not just for the flavor, but also because it brought friends and family together. After getting his business degree from the University of San Francisco, Ralph became a sommelier and worked for several wineries in the Napa Valley as a Winemaker's Assistant and in sales. When he was 15, he made his first beer, and when he was 25, he made his first wine in his basement; over the years he has refined his craft towards creating only top quality style wines (he was not a great brewer).
Being multilingual, he's lived and traveled in France, Italy, and Spain to go on wine explorations in specific regions to further hone his craft and broaden his horizons. Besides world-travel, Ralph shares many other interests and passions as well; he's a Director of his family's philanthropic organization: the Hertelendy Foundation, is a realtor, musician, sports fan, car enthusiast, woodworker, avid chess player, and loves to cook, stay active (scuba diving/golf/snowboarding/wakeboarding), and skydive while seeking adventures around the world.
Quirky and interesting, Ralph is also a bit of a zealot when it comes to converting people's preconceived notions about wine. He likes to throw curveballs about certain varietals, and entice people with intriguing labels and tasting notes that turn conventional wisdom on its head. "I like to make wines that people don't expect. To do the opposite of what something should be." When Ralph tastes amazing wines, it moves his soul and sometimes gives him an epiphany on the meaning of life. When asked why he's making small production, top quality wines, Ralph begins to say, "It's a profound passion striving towards excellence….", but then asserts with a cheeky grin, "…plus, there's just not enough mind-bending wines in this world."
---
Phillip Corallo-Titus, Wine Consultant
Phillip is well known for his work at Chappellet Vineyards and Titus Vineyards. Ralph approached Phillip as his wine consultant because he loves his classy style of winemaking, creating silky smooth, well-balanced wines. Phillip is a talented winemaker whose passion for wine, and modest humility clearly shows when conversing with him. 
Phillip discovered his passion for viticulture and wine at the age of 12 when he began helping his father in the family vineyard. Building on this foundation, Phillip studied agronomy, viticulture and enology at the University of California, Davis and began his professional career in Napa Valley in 1981. Phillip's approach to winemaking begins in the vineyard, where he believes that ripe grapes and great terroir are needed to make premium wines. In his downtime, Phillip enjoys eating healthy and traveling to different parts of the country for his favorite pastime: flyfishing.  
---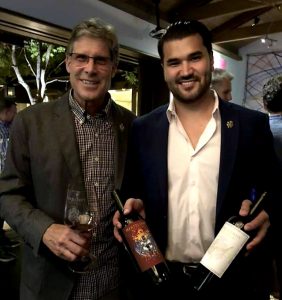 Combining Ralph's complex, bold approach and Phillip's elegant finesse of winemaking, wines from Hertelendy Vineyards meet in the middle of their styles, birthing beautiful expressions of liquid art that wouldn't otherwise have been made. They have formed a symbiotic relationship over the years, and continue to push the envelope with their winemaking techniques in the pursuit towards winemaking perfection.

"Your wine is only as good as your grapes." — Phillip Corallo-Titus
"There's nothing quite like an incredible wine — It has the ability to move your soul, induce goosebumps, and if you're lucky, even reveal the meaning of life. Here at Hertelendy, we handcraft some of the world's finest without compromising quality. Perfecting winemaking since 2006, I feel blessed and fortunate to share my passion with the world." — Ralph Hertelendy